Water Damage Restoration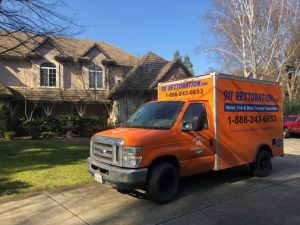 Taking on the fast flowing challenges of a water damage San Francisco scenario is what our experts with 911 Restoration San Francisco are trained and ready for at all times and locations.
Our experts have been trained in the very best water extraction techniques, and our technicians use only the most advanced suction equipment, air movers, dehumidifiers and dryers to bring your home back to normal after any incident.
In fact, our water damage San Francisco specialists will be able to arrive within 45 minutes of your call because we station our experts in strategic locations to save as many people as possible whenever the waters do rise. Call us at 415-230-2959 and allow us to offer you a free visual inspection.
Beyond that, we are available 24/7/365 for every kind of water damage restoration situation that a home or business owner could find themselves in.
From pipe bursts to water heater failures and even ceiling leaks from faulty air conditioning units, our experts with 911 Restoration franchise can handle it all.
Don't let a toilet overflow storm through your home unabated. Contact our teams of water damage San Francisco specialists with 911 Restoration today and let us solve all your woes for you in no time!
Prevent Ceiling Leaks from Overflows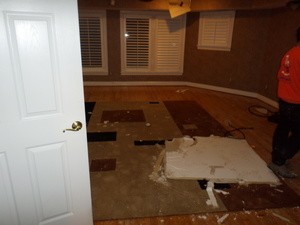 When it comes to flooding and the challenges presented by any sort of water damage event, there is no company in San Francisco that is relied upon more than us for restoring homes efficiently and at the highest level of quality standards.
Because of this level of skill and expertise, our technicians even want to give people the information they need to ensure that situations like this don't even have to happen in the long run.
People should always make sure to clean out their gutters at least once a year, but sometimes more than that depending upon how much leaf litter and detritus there is in the system.
This is because a clog in the gutter can obstruct the flow of drainage and allow for an overflow situation to inundate the roofing layers with water that they can't handle.
Once a roof becomes super saturated with water from an overflow it can spread apart and warp the layers of the roof to the point at which they don't create a seal to protect against water incursion anymore.
Don't let a water damage scenario evolve from a clogged gutter. Call our professionals with 911 Restoration San Francisco today and let them solve your drainage obstruction needs now! Call us at 415-230-2959 and see how we can help you.
Leak and Flood Elimination and Avoidance
The IICRC certified team wants to be there for you in any matters. Preventing leaks and flooding in the home can simply mean making sure that some regular maintenance tasks are taken care of and all will be fine.
One of the easiest ways to prevent water damage from flooding is to prevent the flood in the first place. This can usually be accomplished by simply checking on the hoses and rubber grommets that form fittings for your water based appliances.
Leaks can be spotted by checking on the status of old pipes in your home which may have been first installed near the turn of the century in San Francisco.
Inspecting and maintaining these simple elements in the home or business can prevent the escalation of small abrasions, wear and tear that can turn into bigger challenges down the road.
Don't let a flood from any source find its way into your lovely home. Contact our experts with 911 Restoration San Francisco today and get help with all your needs! Call water damage experts near me at 415-230-2959.
Serving the communities of Antioch, Alameda, Alamo, American Canyon, Berkeley, Bethania, Boyes Hot Springs, Brisbane, Castro Valley, Concord, Daly City, Dublin,, Fairfield, Mill Valley  Napa, New City, Oakland, Pittsburg, San Anselmo, San Francisco, San Pablo, Santa Rosa, South San Francisco, Vallejo, Walnut Creek and surrounding area.