Mold Removal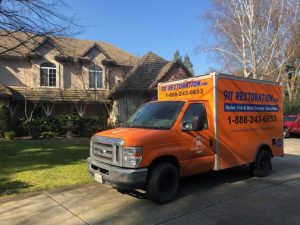 The extraordinary variety of mold species in this world, and the proliferation of those varieties keeps our mold removal San Francisco experts with 911 Restoration San Francisco at the top of their game and ready for solving any contamination issue that your home may have.
Spores of mold and fungus float around in the air and will start growing in any place that has a solid amount of water for it to breed.
This can happen after any sort of water disaster cleanup in your home or business. Allowing a water damage situation to sit for too long can provide the opportunity for mold to take root in whatever location has been affected.
Our mold removal professionals with 911 Restoration know that mold can be a challenge after a water damage scenario has taken place and in response to this we will arrive within 45 minutes of any emergency call you make to our location. Call us at 415-230-2959 and allow us to offer you a free visual inspection.
Beyond that, our teams of mold removal San Francisco professionals will even make themselves available 24/7/365 so that no matter when your situation takes place, we can be there for you.
Safety through Mold Prevention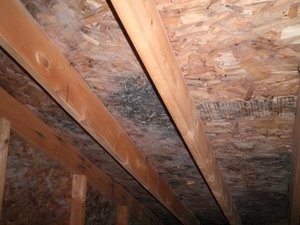 Taking on the challenges presented by a mold removal and contamination situation can be difficult and that's a huge reason why homeowners with larger mold growths shouldn't attempt cleaning up these infestations on their own.
Fungus and the spores that cause it can spread easily with a small amount of water and a good jostling which sends them airborne and floating throughout the house.
Its best to keep a mold growth contained as much as possible after identification because disturbing it will definitely send particulate containing spores everywhere and even into your lungs and mucosal areas.
If you inhale mold spores you may develop anything from slight chest discomfort to congestion and airway obstruction through respiratory problems.
Don't let mold take over your home. Contact our mold removal specialists with 911 Restoration San Francisco to have all of your mold removal concerns abated quickly and efficiently by total experts who have your health and well-being in mind! Call us at 415-230-2959 and see how we can help you.
Cleaning Up Fungus Infestations Takes Expertise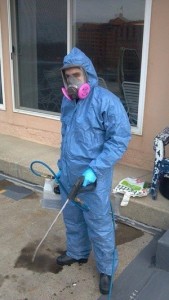 Our mold removal San Francisco experts have seen and solved every kind of mold removal and contamination event that there is in this world, and this is why they have developed such a familiarity with this particular water induced menace. They are IICRC certified, thus can combat it from any situation.
This familiarity on the other hand does allow our specialists to give people the information they may need to attempt cleanup of a mold prone situation on their own.
For one thing, people should know that any kind of water damage incident from a water heater failure to a toilet overflow can allow for major mold growth in your home.
Knowing this can help to prevent a contamination because cleaning up after a water spill or flood can drastically reduce the chances that a fungus takes hold in your home or business.
Attacking the Problem
Once you've identified the source of the water leak or flood and stopped it, then you can go about the cleanup process to ensure that you don't have a mold growth.
The first stage in this is getting rid of all the water that has spilled. After cleaning up the spilt water, the next stage is making sure that the area is disinfected. The primary way that homeowners should attempt this is through using lots of bleach to kill off any spores that land in an area where they can grow.
After you have bleached down the location, the next and final step is to make sure that it is dried out as much as possible. A total dry-out will help to prevent a contamination and mold removal from taking place.
Don't let mold invade your home and start filling your lungs. Contact our specialists with 911 Restoration San Francisco and let them eradicate all of your fungal growths for you today! Call us at 415-230-2959.
Serving the communities of Antioch, Alameda, Alamo, American Canyon, Berkeley, Bethania, Boyes Hot Springs, Brisbane, Castro Valley, Concord, Daly City, Dublin,, Fairfield, Mill Valley  Napa, New City, Oakland, Pittsburg, San Anselmo, San Francisco, San Pablo, Santa Rosa, South San Francisco, Vallejo, Walnut Creek and surrounding area.